Port Oulu Smarter. project wins top prize in 5G Momentum's innovation competition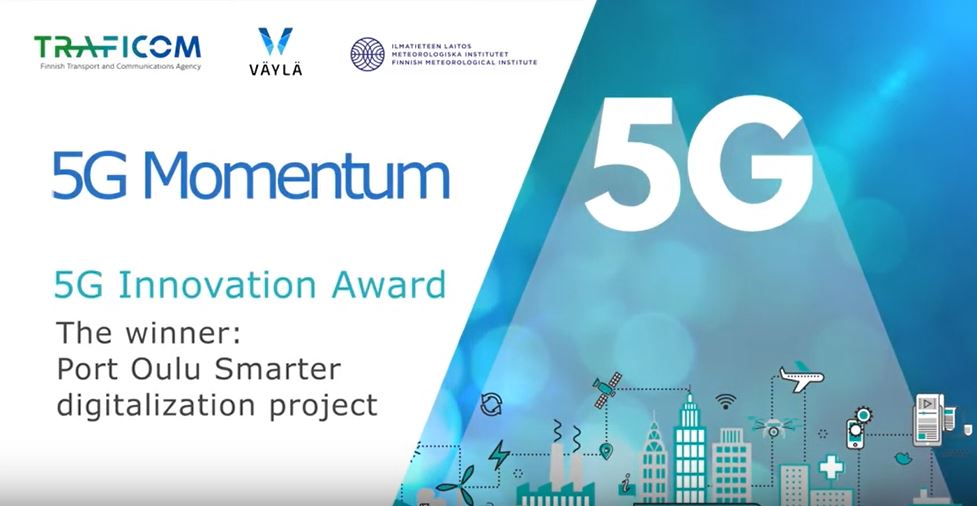 Port Oulu Smarter., a digitalisation project of the Port of Oulu, has won the 5G innovation competition arranged by 5G Momentum.
When selecting the winner, the aim was to find a novel 5G solution: a new kind of product or service, or one that brings significant added value to existing services with the aid of 5G technology. In the Port Oulu Smarter. project, a new, versatile digital infrastructure of the port area will be set up in the Port of Oulu to serve the extensive Port ecosystem and its current and new customers. Within the framework of the project, the Port of Oulu will develop, test and make use of the first 5G solutions for industry and logistics in collaboration with its network partners.
In its motivation for selecting Port Oulu Smarter. as the winner, 5G Momentum describes the innovative winning project as significant in terms of utilisation potential and scalability: it helps promote and highlight Finnish 5G knowhow and service development on both a national and international scale.
"It's really great that 5G Momentum chose the Port Oulu Smarter. project as winner of the innovation competition. National and international collaboration is at the heart of our project, which brings together and serves the needs of Finnish export industry, sea, rail and road traffic, logistics, modern online solutions and novel digital services. The entire extensive network with whom we are taking this project forward deserves thanks for this win. I want to thank all our collaboration partners, particularly those within the 5G VIIMA project – it feels great to be part of 5G development work that has so much social impact", says project manager Mira Juola from the Port of Oulu.
Established in 2018, 5G Momentum is an ecosystem focused on making Finland a leading nation in 5G technology and on promoting the development of 5G services and business. The jury consisted of the 5G Momentum project group, comprising Finnish Transport and Communications Agency Traficom, Finnish Transport Infrastructure Agency and Finnish Meteorological Institute as well as representatives from the Ministry of Transport and Communications.
For more information about the winning entry and the contents of the Port Oulu Smarter. project, go to:
https://www.traficom.fi/fi/viestinta/viestintaverkot/5g-innovaatiokisa
https://www.youtube.com/watch?v=KsQ0i2D0cK0
https://ouluport.com/satamat/satamadigitalisaatio-port-oulu-smarter-2/
For more infrormation: mrs Mira Juola, mira.juola@nullouluport.com, tel. +358 40 8355 262