Port of Oulu, Ukkoverkot and Nokia cooperate on first steps towards an intelligent port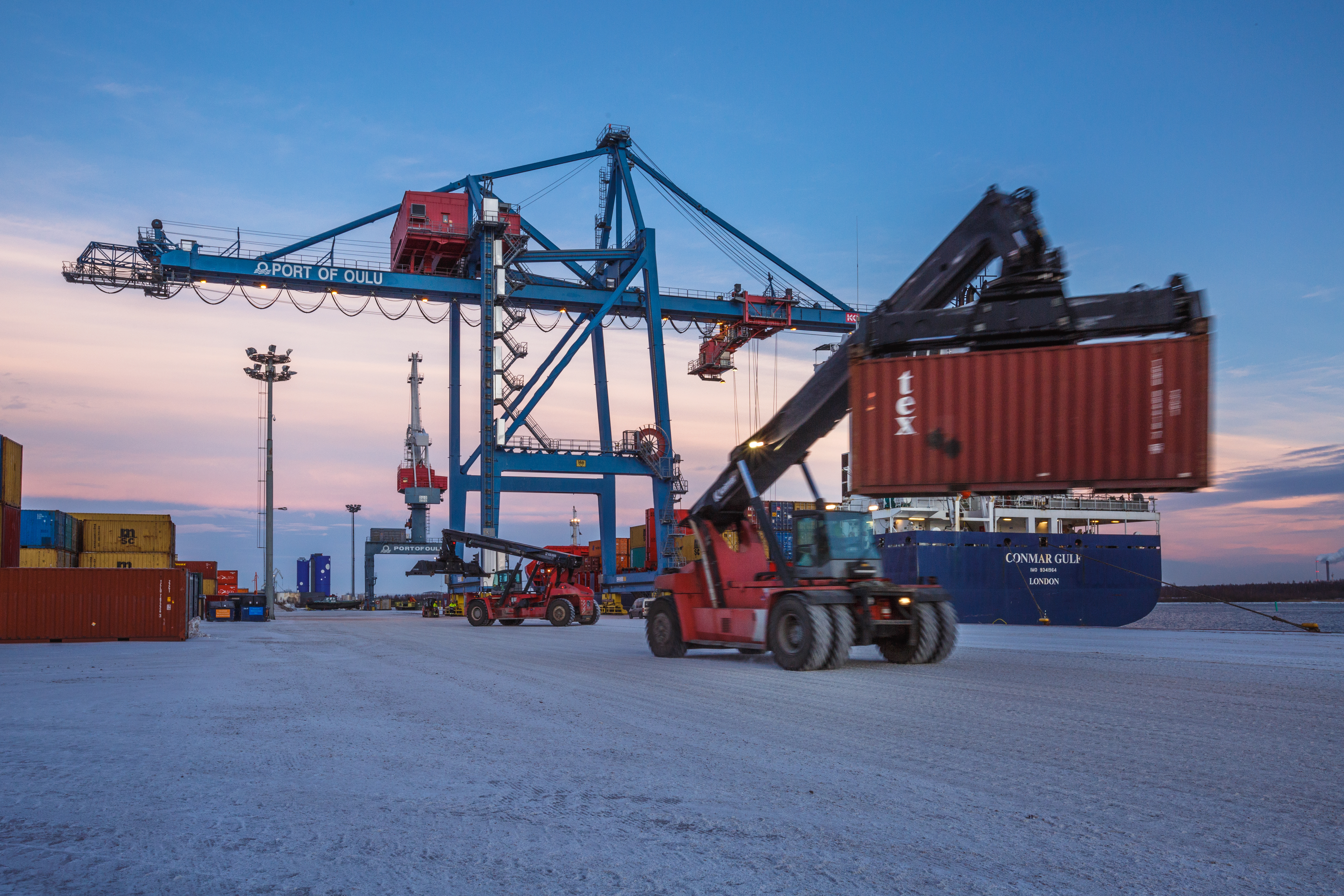 Private wireless services by Nokia Digital Automation Cloud and Ukkoverkot
Port offers secure mobile connectivity for local business digitalization
Oulu Port Ltd and Ukkoverkot, a leading private LTE network provider, together with Nokia have signed a five-year cooperation agreement. The resulting network solution will lay the foundation for the multi-year PORT OULU Smarter digitalization project.
"We want to be a pioneer in port digitalization and have therefore chosen a private LTE solution from Ukkoverkot as the basis for wireless critical communication in our port area. By developing the digital infrastructure in the port, we connect the area's network traffic and communication needs into a seamless entity. This was the most technologically advanced and cost-effective solution for our development work that will span many years to come," says Mira Juola, responsible for finance and digitalization at the Port of Oulu.
The Port of Oulu will provide services by building and developing local network solutions for the port area's multi-functional environment. The port company will manage the network capacity sold as-a-service to enterprises and local actors operating in the premises. The network investment enables innovative, modern and secure digital smart port services for customers and partners alike. Cranes, lifts and other stevedoring fleet must be reliably connected to receive and transmit data during cargo operations.
"The private LTE network in Oulu will utilize the 2.6GHz broadband spectrum allocated to the port by Ukkoverkot and is based on the Nokia digital automation platform solution, that has been tailored to fit their needs with respect to capacity, usability and coverage. The advantage of a private LTE network is that it enables any industrial actor to become a micro-operator, bringing reliable mobile broadband connectivity that scales according to the customer's digitalization strategy. This cooperation corresponds with our strategy and further strengthens our position as a leading provider of private LTE networks," says Jouko Tuppurainen, director, Ukkoverkot. "The private network infrastructure in The Port of Oulu provides businesses and industry with highly sophisticated, pervasive wireless connectivity as a foundation for the digitalization efforts." says Stephan Litjens, General Manager, Digital Automation, Nokia. "The Port of Oulu will use our technology to develop its digital ecosystem and improve its analytics. Our digital automation platform enables a variety of smart business applications to make good use of sensors, video cameras and other devices beneficial in ports."
About Nokia
We create the technology to connect the world. We develop and deliver the industry's only end-to-end portfolio of network equipment, software, services and licensing that is available globally. Our customers include communications service providers whose combined networks support 5.7 billion subscriptions, as well as enterprises in the private and public sector that use our network portfolio to increase productivity and enrich lives.
Through our research teams, including the world-renowned Nokia Bell Labs, we are leading the world to adopt end-to-end 5G networks that are faster, more secure and capable of revolutionizing lives, economies and societies. Nokia adheres to the highest ethical business standards as we create technology with social purpose, quality and integrity. nokia.com
About Ukkoverkot Established in 2014, Ukkoverkot provides tailor-made connections on land, sea and air to support digitalization of industrial and security operators. The customers include Konecranes, the Finnish Defense Forces, Finavia, Steveco, the Border Guard, VR and Erillisverkot. A high-speed 2.6GHz frequency band and licenses for the 450 MHz band are assigned to Ukkoverkot in Finland. The 2.6GHz frequency band available to Ukkoverkot also enables services based on 5G technology.
Additional information
Jouko Tuppurainen, director, Ukkoverkot +358 (0)40 138 8084
Mira Juola, Finance & Port Digitalization, Port of Oulu +358 (0)40 835 5262
Nokia media relations +358 (0)10 448 4900